A3 Student, Parent and Family Weekly News | March 29-April 2, 2021
In-Person Instruction Begins April 19
As per Governor Brown's executive order, A3 is returning to in-person onsite instruction on Monday, April 19. Students will still be divided into AM and PM cohorts for the majority of the day. Below is our schedule, which is attached as well. This schedule is for 4-19 through 5-14. May Term will begin 5-17 and be slightly different. All SPS schools, including A3, will be operating as closed campuses until further notice. This means students will not be allowed to leave campus and go to local businesses. We understand this is a big change, but it's very important for everyone to follow this protocol as we navigate our return. As always, please feel free to contact us or Ame with any questions or concerns.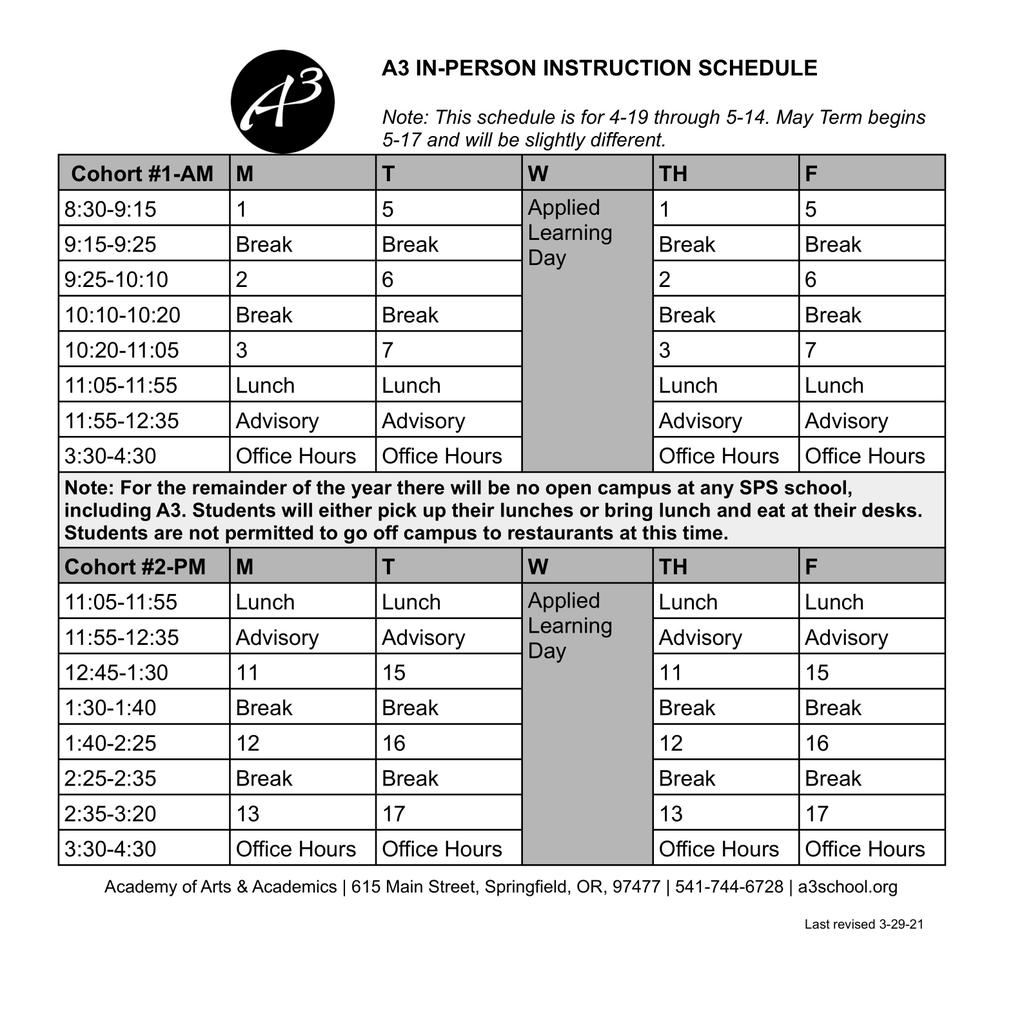 In-Person Instruction Planning
We are working closely with district staff to help ensure our buildings are ready for all students. Students and staff will be trained in safety protocols before returning to the buildings. We will experience some facility changes: we will no longer be using the church and will be taking over the entire A3 Extension building.
Senior photos and quotes for yearbook
You can submit a senior photo and a senior quote for the yearbook using this link:
https://docs.google.com/forms/d/e/1FAIpQLSda7lpWMpeYvWqzozkR-1D0deEdfGrFaz_bfo9N6y_fHH5_-Q/viewform
Senior Opportunity
2021 Spreading Kindness Leadership Awards : "Listening to the Voices of Youth Leadership: Ideas for Enhancing Kindness in High School Cultures".
The Choose Kindness Foundation is once again offering the opportunity for one A3 senior to receive a $1,000 post-secondary scholarship for proposing a kindness-enhancing project for their school.
Interested? Here's what you need to do.
1) A 3-5 page written proposal that includes:
a brief statement of need specific to their school
goals of the project
a brief rationale for the idea
a brief project narrative (outline of steps)
a simple budget
a basic means of gauging the impact of the project, if implemented.
2) A Video Pitch
Students must also submit a video presentation of three to four minutes in which they make a "pitch" for their proposal directed at an audience of school leaders.
Note: If the school decides to implement the student's proposal, the school will be eligible for a small grant of $1,000 to help cover implementation costs for the project.
IMPORTANT DATES
March 31 — Student applications/proposals/videos are due
April 6 — winning student notified
May 1 — The Choose Kindness Foundation announce  Scholarship recipients publicly
Note: Selected plans will be posted on the Spreading Kindness Campaign website and, with permission, released on social media to be available to other interested schools.
Have any questions? Contact Scott: scott.crowell@springfield.k12.or.us;
Nissie: nissie.ellison@springfield.k12.or.us; or Ame: ame.beard@springfield.k12.or.us
Guiding Questions for Student Applicants:
You have been asked to develop a plan for your high school on how to strengthen the climate of kindness within the school's culture.  What school need do you see for this work?  What goals would you propose?  What activities would you recommend?  What is your rationale for these goals and activities?  Who are the key players and what are their roles in this work?  How would you allocate a $1,000 budget to support this plan?  Develop a brief written proposal with budget and a 3-4 minute video presentation to lay out and promote your plan.
One plan will be selected and may be implemented by school leaders. The student whose plan is selected will receive a $1,000 post-secondary scholarship, and with permission, their materials will be shared publicly.
PTSA Meeting April 6
Please join us for the next A3-PTSA virtual meeting on Tuesday, April 6 at 6 pm. The A3 PTSA is made up of parents, teachers and students, and this meeting provides a forum for ideas and the sharing of information about the A3 community. Ame Beard, A3 principal will be available for questions. All are welcome.
We will be discussing A3's upcoming return to in-person classes, how the rest of the year will look, and Staff Appreciation Week ideas. Please email Lana Dishner at a3ptsasecretary@gmail.com for the Google Meets link.
Connected Lane County
All current graduating seniors and 2020 graduates are invited to Connected Lane County's April & May virtual Hiring Fair!
Just like in previous years, their goal is to connect young professionals to local jobs. They've invited dozens of local companies who all have entry-level positions open or project to have them open in the late spring.
This year's event will be entirely virtual and will look quite different from years past. Here's what students can expect:
-Week 1 (April 19-22): Students get to know the participating companies via a virtual Meet & Greet
-Week 2 (April 28): Student prep: Resume building webinar &  1:1 job application support and/or mock-interviews
-Week 3 (May 5): Student prep: Interviewing 101 webinar & 1:1 job application support and/or mock-interviews
-Week 4 (May 10-14): Students interview for the jobs they're interested in! We invite you to register an entire class or encourage students to register themselves. Students are not required to participate in all events detailed above, but they are encouraged (and incentivized) to do so.
REGISTER HERE: https://lesd.link/Register_4_HiringFair
Questions please contact: Lizzie Gray, Project Coordinator, Connected Lane County 1200 Highway 99N, Eugene, OR 97402, 541.517.6497
Northwest Youth Corps and Idaho Conservation Corps:
Application is OPEN! Apply now for our 2021 Summer programs.
TO APPLY: Go to our website, nwyouthcorps.org and select "Apply Here / Login" in the top left corner. Create a profile account and follow the prompts as needed. Select the programs that interest you in the "My Programs" tab and complete the application that follows. If you experience any difficulties during the application process, we are here to help! Our friendly Community Engagement team is available anytime via email at info@nwyouthcorps.org. We have also included a helpful How To Apply guide for you.
WHO WE ARE: Northwest Youth Corps offers a challenging education and job-training experience that helps youth and young adults from diverse backgrounds develop the skills they need to lead full and productive lives. Our programs include residential conservation crews for both youth and young adults, local community crews, an internship program for college aged participants, a fully accredited high school, and a two-acre organic farm. Whether you are looking for an amazing summer work experience or looking to gain specific skills for a future career with land management agencies, Northwest Youth Corps has an opportunity for you. Through your service, working on meaningful conservation projects will allow you to gain a fresh perspective, learn new skills, meet new people, and discover new opportunities and career pathways.
Please reach out to our Community Engagement team with any questions via email at info@nwyouthcorps.org. We are also able to schedule phone calls with the appropriate staff member for your question! We look forward to seeing your application. info@nwyouthcorps.org 541-349-5055
Scholarships for Seniors
OSAC (Oregon Student Assistance Commission), 600+ Scholarships with ONE Application https://app.oregonstudentaid.gov – February 15th: Priority deadline for Early Bird – If error-free, enter a drawing for a $1000 scholarship; many available 5:00 PM (PST)
Oregon Promise -June 1st, 2021 FINAL deadline  – Oregon Promise TWO (almost) free years of community college MUSt Complete FAFSA (www.fafsa.gov) and choose a community college. Complete APPLICATION prior to June 1st https://app.oregonstudentaid.gov/ and APPLY at a community college in Oregon.
Mobile Mental Health Resource Center
Mobile Mental Health Resource Center A.K.A. HOOTS staff will continue this year. We will be able to continue this service every Wednesday this year. Of course, it will be a little different this year.
Where: We will use Doxy (a secure virtual site) and it is very user friendly, just click on this  link and you'll immediately be put into a virtual waiting room.
When: 1:00PM – 3:00PM EVERY Wednesday at this link
On Wednesdays students and families will have access to our MMHRC/HOOTS staff which provide FREE confidential One-On-One, drop-in support for counseling, medical evaluation and social service referrals. Students and families may utilize these FREE services. No insurance needed or required. Students and community members struggling with anxiety, depression, substance abuse, domestic trauma, homelessness, or lack of access to other basic resources are encouraged to seek out these FREE services for support, this service is available to all students and families, regardless of the severity or category of need.
Graduation Information
Earning Your Diploma: The Academy of Arts and Academics and Springfield Public Schools believes that student success is our most important outcome. We are committed to upholding the dream of opportunity for each of Springfield's children, and we stand behind our vision of "Every Student a Graduate Prepared for a Bright and Successful Future." In 2007, the State Board of Education adopted new Oregon high school diploma requirements. These new requirements were designed to ensure that all students have the skills necessary for success in the 21st century.
Credit Requirements (24 total)
English: 4 credits
Math: 3 credits (at the Algebra 1 level and higher)
Science: 3 credits (scientific inquiry, 2 with lab experiences)
Social Science: 3 credits
Health: 1 credit
PE: 1 credit
Second Language/Art/Career & Technical Education: 3 credits
Electives: 6 credits
Essential Skills  – – –  HAVE BEEN WAIVED FOR THE CLASS OF 2021!
Beginning in 2012, the state began phasing in requirements for students to demonstrate that they are proficient in certain "essential skills" – skills that are deemed critical for future success – before they are awarded the diploma. These skills are:
The ability to read and comprehend a variety of texts
The ability to write clearly and accurately
The ability to apply mathematics in a variety of settings
Personalized Learning Requirements
Personalized learning, learning beyond the classroom, and connections to the adult world are critical for preparing each student, whatever path they take after graduation. The Personal Learning Requirements help personalize the diploma for each student and help students plan for their post-high school goals. Oregon requires students complete personalized learning activities as part of the graduation requirements.
Life After High School
Are you starting to think about life after high school? Check out our Post High School Planning Guide.
Helpful Resources
Get Schooled – new resource to help with after high school success

Get Schooled – We help young people get to college, find first jobs, and succeed in both. Get Schooled is free, has no advertising, and never shares personal user data.
Common Application Activities List
Scholarships for the Trades
Drug and Alcohol Treatment for Teens
The Adolescent and Family Services (AFS) Clinic of Oregon Social Learning Center (OSLC) currently has openings for our drug and alcohol treatment program for 12-18 year old's. Our family oriented treatment is evidenced-based and offered at no cost to families in English or Spanish as part of a research study at Oregon Social Learning Center. ALL Lane County teens/families are eligible.
The AFS Clinic is launching a new series of videos to promote our research and services.  The first few videos have been launched on the AFS Facebook page (https://www.facebook.com/afsclinics) and on YouTube (https://www.youtube.com/watch?v=xg8RSIejI4Mhttps://www.youtube.com/watch?v=xg8RSIejI4M). Please watch for more videos in the weeks to come.
We'd be so appreciative if you could help spread the word to increase our reach to adolescents and families in our community. Please consider liking our AFS Facebook Page, liking our video posts, and sharing on your organization's or private practice's social media platforms.  Thank you for your continued support of OSLC and our mission to improve the well-being of teens and families through research and clinical services.  If you have questions about the AFS Clinic or want to refer people directly to the clinic for services, please call AFS at 541-284-7560.  To learn more about OSLC research, please visit our website https://www.oslc.org/.